Marriage Of Sultan-ul-Ashiqeen Najib Ur Rehman
Sultan Mohammad Najib-ur-Rehman got married on March 13, 1987 (13 Rajab, 1407 H) before the Friday prayer in Lahore. He tied the knot with Tahira Parveen, the only daughter of Mohammad Saleem. Later on, the departure ceremony of the bride held a couple months after following the same year. To be precise, it was a fine Thursday evening on November 18, 1987 (28 Rabi al-awwal, 1408 H).
The wedding ceremony was very simple. As a matter of fact, only fifteen members of both the families were at the Nikah (a Muslim marriage) ceremony. Whereas just six persons were present at the Rukhsati ceremony (departure of the bride to groom's house after Nikah). Sultan-ul-Ashiqeen had not yet stepped on the path of Faqr, even then it was a very traditional simple Islamic wedding. Due to his simplicity and disliking for the non-religious activities, he avoided all the superfluous, non-Islamic customs and extravagancies.
Sultan-ul-Ashiqeen's respectable wife, Tahira Parveen was the daughter of Mohammad Saleem son of Chaudhry Nur Mohammad.
She was born in Okara (Pakistan) on November 18th, 1969 (8th Ramadan, 1389 H). Accurately, it was Tuesday at the time of iftar (fast breaking) after sunset prayer. Her father was a government servant in Lahore. Therefore, soon after her birth, the family settled in Lahore.
Chiefly, she lived most of her life in Lahore. Here she completed her matriculation as well.
Tahira Parveen is the sincerest wife and above all a very faithful person.
As a matter of fact, she cooperated with her husband on every turning point of his life. Especially, she stood by him on the path of Faqr.  No doubt, she has been truly a source of his strength in all matters of life.
Not only this but also, she remained steadfast with him during his journey of Faqr. This was the era when all his relatives left him but she was beside him to encourage.
Precisely, in the dark moments of life, she was like a candle of hope for him. Probably, because she was also a disciple of Sultan-ul-Faqr VI Sultan Mohammad Asghar Ali.
In fact, she herself was on the path of righteousness. Therefore, she was standing by the man who was chasing nothing but the real purpose of life. In short, a man who was sincerely seeking Allah.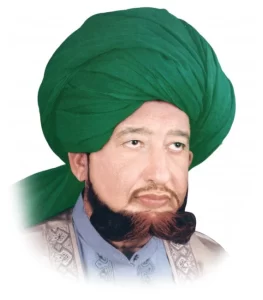 Sultan-ul-Ashiqeen's wife was a disciple of Sultan-ul-Faqr VI
Following the footsteps of Sultan-ul-Ashiqeen, she took oath of allegiance (al-bayah or bayat) on the hands of Sultan-ul-Faqr VI, in December 1998. Whenever her Murshid Sultan-ul-Faqr VI Sultan Mohammad Asghar Ali stayed at their house, she felt very honoured. Explicitly, she never left any stone unturned in rendering services to him. Even more, she used to prepare meals for him very sincerely after performing ablution. Her Murshid (spiritual guide) was also very affectionate towards her. In particular, he always praised her cooking skills.
Generosity of Sultan-ul-Ashiqeen's Wife
Not only she spent in Allah's way from her household budget but also, she donated her personal wealth.
Specifically, she donated her own house for the cause of Allah. This house is now the khanqah of Sarwari Qadri order and the office of Sultan-ul-Faqr Publications and Digital Productions (Registered).
Consequently, due to Divine love and struggle in Faqr, Allah blessed her with the highest levels of Faqr.

Sultan-ul-Ashiqeen's wife guides the women seekers of Allah
After Sultan-ul-Ashiqeen adorned the throne of Divine guidance, his wife renewed her oath of allegiance (al-bayah) on his hand. This sacred al-bayah took place on October 29th, 2017 (8th Safar, 1439 H) Sunday. Along with her husband she has dedicated her life in spreading Faqr among women. For this purpose, she meets with the female seekers of Allah every Sunday at her residence. Particularly, she guides and prays for them regarding their worldly as well as spiritual issues.
Allah blessed Sultan ul Ashiqeen with four daughters and a son. One of the daughters Tabeena Najib died at the age of seven.
Sahibzadi Muneeza Najib was born in Lahore on August 7th, 1988 (23rd, Dhul al-Hijjah 1408 H) Sunday about 7:05 p.m.
At the age of ten, she took oath of allegiance at the hand of Sultan-ul-Faqr VI.
Later, she renewed it on her father's hand in the year 2012.
She got married to Captain Mohammad Abdullah Iqbal Sarwari Qadri on Saturday, November 14th, 2015.
Despite the marital responsibilities, she has translated several books of Sultan-ul-Ashiqeen from Urdu to English language.
Also, she assists the social media wing of Tehreek Dawat-e-Faqr.
She is spiritually blessed.  Therefore, Sultan-ul-Ashiqeen has given her permission to give spiritual guidance to the women seekers of Allah. Furthermore, she can give them the first dhikr (invocation) of Ism-e-Allah Zaat (the personal name of Allah).
On September 27th, 1989 (25th Safar, 1410 H) Wednesday at 6:15 p.m., Sahibzadi Tabeena Najib was born in Lahore.
She died at a very young age of seven in the ICU of General Hospital, Lahore. The little girl took her last breath on October 2nd, 1996 (18th Jumada al-awwal, 1417 H) Wednesday at 8:05 a.m.
The heavy-hearted parents buried her in the Kareem block graveyard Iqbal Town Lahore. Beside her paternal grandmother is the grave of this little angel.
Sahibzadi Mishal Najib was born on September 6th, 1994 (28th Rabi al-awwal, 1415 H), Tuesday at 2:20 p.m., in Lahore.
She also swore oath of allegiance on her father's hand.
On December 17th, 2016 Saturday she got married to Dr. Husnain Mehboob Sarwari Qadri. A few months later, her departure ceremony took place on February 12th, 2017.
Anyhow, she is also actively involved in the duties of the social media. Mostly, she is the part of Sultan-ul-Ashiqeen's modern approach of inviting people towards Faqr via Facebook, Instagram, Twitter, Pinterest etc.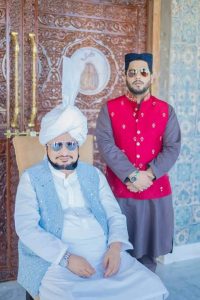 The only son Sahibzada Mohammad Murtaza Najib was also born in Lahore. He was born on Tuesday, August 5th, 1997 (30th Rabi al-awwal, 1418 H) at 5:20 p.m.
Sultan-ul-Faqr VI Sultan Mohammad Asghar Ali loved him a lot. Whenever he looked at him, he used to say,
"If Allah wills, he would possess all the attributes of his name"

(Murtaza means the approved and chosen one. It is the appellation of Ali ibn Abi Talib).
Sahibzada Sultan Murtaza Najib took oath of allegiance at the hands of Sultan-ul-Ashiqeen on Saturday, 22nd October 2016. It was at the auspicious eve of the Urs (death anniversary) of Sayyid Mohammad Abdullah Shah in Ahmadpur East. Sultan-ul-Ashiqeen honoured him with his own sacred turban on the blessed occasion. Later, on the auspicious occasion of Eid Mawlid an-Nabi held on Wednesday, 21st November 2018, Sultan-ul-Ashiqeen granted him the succession. He also declared that he is permitted to take oath of allegiance for the seekers of Allah and will be his shrine caretaker.
Sahibzada Sultan Mohammad Murtaza Najib was married to Dr. Maha Mehboob on Friday, 6th December 2019 (6th Rabi ath-thani 1441 AH). Their reception ceremony was held on Sunday, 15th December 2019 (15th Rabi ath-thani 1441 AH).
Oath of Allegiance of Sultan Mohammad Murtaza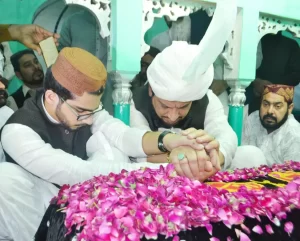 Tehreek Dawat-e-Faqr held a grand Urs (death anniversary) of Sultan-ul-Tarikeen on 22nd and 23rd October 2016 in Ahmadpur. After coronation (taj poshi) of shrine on Saturday, 22nd October, Sultan-ul-Ashiqeen took oath of allegiance from Sahibzada Sultan Mohammad Murtaza Najib. Then he awarded him with his own turban.
After the allegiance, Sultan-ul-Ashiqeen addressed the audience and said the following:
"In 2012 I requested in court of Sultan-ul-Tarikeen to grant permission of Mohammad Murtaza's oath of allegiance. However, Sultan-ul-Tarikeen expressed "I will take oath of allegiance from him myself". Later, during our visit to the shrine on 13th August 2016, Sultan-ul-Tarikeen promised that this year on the occasion of Urs he shall take oath of allegiance from him after ghusl (ablution ceremony) of the shrine. Hence exoterically, I've taken oath of allegiance from Mohammad Murtaza but infact Sultan-ul-Tarikeen spiritually took allegiance from him. Moreover, he declared him as his spiritual son and ordered me to bestow him the turban that he originally granted me. Indeed, Shah Sahib fulfilled his promise of taking oath of allegiance from Mohammad Murtaza."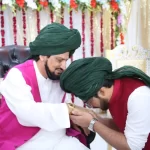 On 21st November 2018, at the event of annual Mawlid al-Nabi, Sultan-ul-Ashiqeen reiterated the incident of Sahibzada Mohammad Murtaza's allegiance. He said:
"On the occasion of Urs Sultan-ul-Tarikeen on 22nd October 2016 I granted my turban to Mohammad Murtaza. When a spiritual guide grants his turban (dastar) to someone that means he bestowed Khilafat (succession) to that individual. But I did not announce it that day because of certain reasons. Today I declare Mohammad Murtaza Najib as my khalifa (successor). I also grant him my family headship after me. Moreover, I bound him to be nice to his sisters, my disciples and devotees. I also designate him as my sajjadah nashin (shrine care taker)."
On the occasion of Mawlid ceremony on 21st November 2018 Sultan-ul-Ashiqeen further added:
"I proclaim Mohammad Murtaza as the Vice-Patron in Chief of Tehreek Dawat-e-Faqr. Therefore, it is mandatory on all attendees and devotees to regard him according to his granted status. Moreover, I direct all my successors after me to honour and value Mohammad Murtaza as he is my son. I also advice Mohammad Murtaza not to stop anyone from visiting my shrine. As I'd not like anyone to suffer the way I did." (The sons of Sultan-ul-Faqr VI have prohibited Sultan-ul-Ashiqeen from visiting the shrine of his beloved spiritual guide).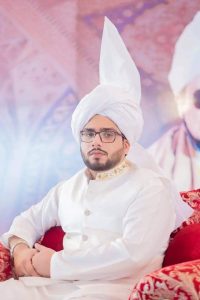 Sahibzadi Fatimah Najib was born in Lahore on January 4th, 2003 (30th Shawwal, 1423 H) Saturday at 4:30 p.m. Her birth was in the death year of Sultan-ul-Faqr VI Sultan Mohammad Asghar Ali. This is when her father had reached the destination of Faqr. At the time, Sultan-ul-Ashiqeen's spiritual guide Sultan Mohammad Asghar Ali had spiritually transferred the Divine Trust to him.
Sultan Mohammad Asghar Ali named the youngest Daughter
Sultan-ul-Faqr VI, himself named her Fatimah.
As soon as he heard the news of her birth he visited Lahore with his second wife.
He was very anxious to see the blessed baby girl. The moment he saw her, he held her into his arms. Then he put some honey into her mouth and said;
"We came to Lahore only to see this new soul. Verily, this soul is coming from alam al-LaHoot (realm of Divinity)".
Afterwards, he ordered for her Aqiqah. To elaborate, Aqiqah is the Islamic tradition of the sacrifice of an animal on the occasion of a child's birth.
Fatimah Najib swore oath of allegiance on the hands of Sultan-ul-Ashiqeen as well. She is also a part of the social media wing. Mainly, her duty is to post literary slides on Facebook and Instagram to spread the message of Faqr. She has also translated Sultan-ul-Ashiqeen's book Faqr-e-Iqbal in English and regularly translates the Urdu blogs into English language to be posted on the websites.
Please click to request for Online Oath (Bayat) facility…