Master
Sultan ul Ashiqeen's Efforts to Revolutionize Faqr (Sufism)
"Change is the principle of the Universe. One who does not adjust with the change, undergoes obliteration."
Sultan-ul-Ashiqeen has an innovative and radical personality. He accompanied this trait with the principle of the Universe and made untiring efforts and endeavors to promote Faqr. In the era of Sultan-ul-Ashiqeen Faqr has advanced like never before. It is due to his revolutionary mindset that Faqr spread throughout the world in his era. Indeed, his efforts in this regard are incredible and worth praising.
Before we dive into his successes as a seeker of Allah and the perfect spiritual guide, let's look into the era of his student life. A famous phrase says, "brilliance of a person is reflected in his childhood itself." Sultan-ul-Ashiqeen was the best and most talented student of his school. His writing skills started manifesting from childhood. As he began to write essays in the children sections of newspapers during his fifth standard. His essays published in the children's editions of renowned newspapers. Such as, Roznama (Daily) Wafaq Lahore, Roznama Masawat Lahore, Roznama Mashriq Lahore and Roznama Imroze Lahore.
Sultan-ul-Ashiqeen Sultan Mohammad Najib-ur-Rehman was among the first rank students in every class. He also succeeded in writing, debating and speech competitions with flying colors. His extraordinary personality made him prominent in education as well as extracurricular activities. He had great administrative and leadership qualities. Therefore, he remained the monitor of class till tenth standard.
Sultan ul Ashiqeen as a Seeker of Allah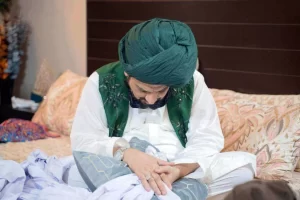 As a seeker of Allah, the life of Sultan Mohammad Najib-ur-Rehman is the best living example and prodigy of the Divine love. His love for his spiritual guide, Sultan Mohammad Asghar Ali, was so intense that he almost forgot his own existence. Sultan-ul-Ashiqeen tirelessly performed all the tasks assigned to him by his spiritual guide. Hence, with his skills and courage, he made such positive changes in the organization, under the supervision of his Murshid, that lakhs of other disciples failed to do.
In the following paragraphs, we have discussed some of the efforts of Sultan-ul-Ashiqeen, which not only reflect his devotion and dedication but also intense love for Sultan Mohammad Asghar Ali.
Making of Gold Ism-e-Allah Zaat
Initially, Sayyid Mohammad Bahadur Ali Shah made the gold Ism-e-Allah Zaat in 1934. After that, till 1999, the Sarwari Qadri spiritual guides gave the printed Ism-e-Allah Zaat to the seekers of Allah. Sultan Mohammad Asghar Ali assigned Sultan-ul-Ashiqeen the auspicious service of getting the gold as well as the regular Ism-e-Allah Zaat made. Also, he was the only disciple, whom his Murshid granted the contemplation of Ism-e-Mohammad.
Duty of Magazine Mirat-ul-Arifeen
Sultan Mohammad Asghar Ali assigned Sultan Mohammad Najib-ur-Rehman the duty of publishing the monthly magazine Mirat-ul-Arifeen Lahore. From April 2000 till the death of Sultan-ul-Faqr VI, he continued to publish this magazine with flying colors.
Sultan-ul-Ashiqeen's Unique Way of Preaching
Sultan Mohammad Asghar Ali made Sultan-ul-Ashiqeen patron in chief of the Islahi Jamat, Lahore office. There, he adopted a unique and innovative method of preaching. He and his preachers visited shopping malls, markets and other crowded places rather than preaching only in mosques. The effective way of their preaching convinced a lot of people to follow the path of Faqr.
After Sultan Mohammad Asghar Ali passed away, Sultan-ul-Ashiqeen adorned the throne of Divine guidance and persuasion. The countless efforts that Sultan-ul-Ashiqeen made outwardly and inwardly to spread Faqr leave the person awestruck. Indeed, his inward endeavors are innumerable. Here, we will discuss a few outward efforts in the following paragraphs:
Distribution of Books for Free
To promote Faqr, Sultan-ul-Ashiqeen printed two thousand copies of two books, 'The Perfect Spiritual Guide' and 'The Divine Reality of Ism-e-Allah Zaat'. He then distributed these books all over Pakistan for free in the way of Allah. The sole purpose was to invite people towards invocation and contemplation of Ism-e-Allah Zaat. He also published advertisements on back panel of various newspapers to invite people to avail both books free of cost. As a response to the advertisements, he distributed thousands of books for free in Pakistan. The links to the Urdu and English version of both of these books are given below:
Sultan-ul-Ashiqeen's Tours to Spread Faqr
Sultan-ul-Ashiqeen travels excessively to invite and preach people about the teachings of Faqr. Moreover, he grants the seekers of Allah with the beneficence of Ism-e-Allah Zaat while on his tours around the country. In fact, he grants this beneficence to numerous men and women both with and without oath of allegiance. He also grants invocation and contemplation of gold Ism-e-Allah Zaat and practice of inscribing Allah's name on body, right after taking oath of allegiance from the disciple.
Sultan ul Ashiqeen Grants Ism-e-Mohammad
With the permission of his spiritual guide, Sultan Mohammad Asghar Ali, Sultan-ul-Ashiqeen made Ism-e-Mohammad common as well. In fact, spreading the beneficence of Ism-e-Mohammad along with king of invocations Hoo ( ھُو ) is solely the marvel of Sultan-ul-Ashiqeen. He is purifying the innerself of numerous seekers of Allah and bestowing them with Divine vision and presence of the Mohammadan assembly
Compiled a Compendium on the Life of Sarwari Qadri Saints
Sultan-ul-Ashiqeen is the only Sarwari Qadri saint who compiled a compendium on the biography, teachings, miracles and every aspect of life of the Sarwari Qadri saints after Sultan Bahoo. In this age, no other work upon the life of Sarwari Qadri spiritual guides is as authentic as this book. It is one of his greatest achievement to make the world aware of the grand status of Sarwari Qadri Murshids. For this purpose, he gathered many manuscripts to accumulate complete and authenticated information about their lives. As a result of his persistent endeavor, he compiled a book named Mujtaba Akhar Zamani. This book is also translated into English language. The links to both Urdu and English book is as follows;
Collection of Mystic Poetry
Another revolutionary step Sultan-ul-Ashiqeen took was gathering the complete mystic poetry of the Sarwari Qadri spiritual guides. Nobody has ever published their mystic poetry before. No doubt it was a potential game changer to revitalize the spirit of the seekers of Allah. As in this poetry lies the treasure of spirituality which guides the disciple in a very elegant way. Sultan-ul-Ashiqeen compiled and published this poetry in his book Kalam Mashaikh Sarwari Qadri. The link to this book is given below: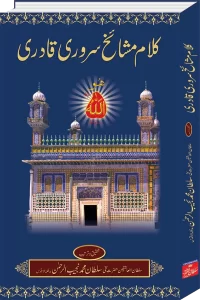 Laid the Foundation of Tehreek Dawat-e-Faqr
Allah says in sura al-Imran:
"And from amongst you there must be a community comprising the people who invite mankind towards piety, enjoin righteousness and forbid evil. And they are the successful people." (3:104)
Sultan-ul-Ashiqeen laid the foundation of Tehreek Dawat-e-Faqr in the light of the aforementioned verse of Quran. The main aim of this organization is to invite people from all over the world to attain the beneficence of Faqr. As this is the only way through which one can gain gnosis of Allah and find presence in the Mohammadan Assembly. Tehreek Dawat-e-Faqr is a registered organization, completely non-political, non-governmental and non-sectarian. To read more about this organization visit the following website:
Sultan ul Ashiqeen Used Different Mediums to Spread Faqr
Sultan-ul-Ashiqeen has a refined temperament and disposition. He is meticulously organized which is reflected in his work as well. Moreover, he is well aware of the needs of the modern era. Therefore, he utilized the modern means of communication to spread the teachings of Faqr. To elaborate, he used the modern mediums of social media such as Facebook, Instagram, Google plus, Pinterest, YouTube, Twitter, etc. Through this revolutionary step, he has spread the teachings of Faqr to the entire world.
Sultan ul Ashiqeen Establishmed Khanqah of Sarwari Qadri Order
Sultan-ul-Ashiqeen established Khanqah of Sarwari Qadri order where he meets his disciples and devotees from all over Pakistan every Sunday. In this Khanqah, disciples from outside the country and far off places also reside for some time. Here they cut off from the world and stay in the company of their spiritual guide. This khanqah is the office of Tehreek Dawat-e-Faqr (Regd.), Sultan-ul-Faqr Publications (Regd.), Sultan-ul-Faqr Digital Productions and Monthly Sultan-ul-Faqr Magazine Lahore. The trained disciples of Sultan-ul-Ashiqeen Sultan Mohammad Najib-ur-Rehman are present in this Khanqah. They work, day and night to spread the teachings of Faqr through books, magazines and websites. Visit the following website to know more about this Khanqah:
Online Access to Sultan-ul-Faqr Publications
Keeping in mind the needs of the present era, Sultan-ul-Ashiqeen has enormously made use of computer and other electronic media to spread the books published under Sultan-ul-Faqr publications. These books are available as e-books on the internet for free. The intention behind this is an easy access to teachings of Faqr for people around the globe. All the books published by Sultan-ul-Faqr publication can be read online or downloaded for free by visiting the link given below:
The use of social media like, Facebook, Twitter, LinkedIn, Pinterest, Tumblr, Reddit, TikTok, Likee, Instagram etc. is a huge revolutionary step taken by Sultan-ul-Ashiqeen to spread Faqr.
Introduction of Different Websites
Per demand of the present era, the way to inform people to the reality or truth is through websites.  Sultan-ul-Ashiqeen Sultan Mohammad Najib-ur-Rehman has made use of this medium with immense prudence. These websites include all the teachings of Faqr (Sufism) and the saints of the Sarwari Qadri order. Moreover, they include all books published under Sultan-ul-Faqr publication in Urdu and English language. Indeed, these websites have allowed a great number of people to adopt the way of Allah i.e. Faqr. People can either read these books online or download them for free.
Introduction of Web TV Channels:
Sultan-ul-Ashiqeen also introduced a web TV by the name of 'Sultan-ul-Faqr TV'. This channel plays mystic poetry, poetic praise of Allah (Hamd), poetic encomium of Prophet Mohammad (Naat) and mystic poetry of Iqbal. Furthermore, it plays audios and videos of the Urs (death anniversary) of the Sarwari Qadri spiritual guides. It also covers the videos of the annual spiritual gathering held under supervision of Sultan-ul-Ashiqeen.
In addition to Sultan-ul-Faqr TV channel, three other channels were also introduced. The links to all the TV channels are as follows:
Audios and videos of Hamd (praise of Allah), Naat (praise of Holy Prophet), mystic poetry of spiritual guides of Sarwari Qadri order, poetry of Iqbal, all 201 couplets of Sultan Bahoo are prepared and uploaded on these channels. Videos of all events celebrated by Tehreek Dawat-e-Faqr under presidentship of Sultan-ul-Ashiqeen as well as videos of his preaching tours are also available. Moreover, these channels are also recording and uploading lectures regarding teachings of Faqr.
Translation of Books into English Language
Sultan-ul-Ashiqeen understands that in the present era English language is the globally recognized language. Therefore, he ensured all the books published by Sultan-ul-Faqr publications are translated in English as well. For this purpose, he formed a team of disciples who translated not only books of Sultan Bahoo but also all the books of Sultan-ul-Ashiqeen. This team continues to translate various other books so the teachings of Faqr can be spread across the globe.
Here it is important to note that all departments of Tehreek Dawat-e-Faqr work under direct supervision of Sultan-ul-Ashiqeen. He guides his disciples not only outwardly but also inwardly through his spiritual attention.
Acquainted with Latest Technology
Normally, it is thought that Fakirs are not acquainted with the latest knowledge and technology. However, Sultan-ul-Ashiqeen is not only conversant with vast knowledge but is also fully acquainted with the use of latest technology. Undoubtedly, Sultan-ul-Ashiqeen himself becomes a source of guidance and training for the disciples. It is because he has perfect grip over every field of knowledge and technology. This owes to his fathomless intelligence that cannot be achieved by anyone else.
Equally Granted Faqr to Women
It is by virtue of the spiritual beneficence of Sultan-ul-Ashiqeen that Faqr spread more among women in his era than in any other previous eras. He guided the female disciples parallel to the male disciples. This is why female disciples are working equally along with men in different departments of the organization.
Online Oath of Allegiance (al-Bayah)
Undoubtedly, Sultan-ul-Ashiqeen has truly revolutionized the world of Faqr by initiating the system of online oath of allegiance. This primarily is for the seekers of Allah living in countries outside of Pakistan. Especially, people who are unable to travel to Pakistan due to illness or financial problem, etc. However, with time he also granted the permission for online oath of allegiance to those women living in Pakistan. It was an exception for those who are unable to meet Him due to their domestic issues. Due to this beneficence enormous number of people took oath and became aware of Faqr. One can verify the spiritual benevolence of Sultan-ul-Ashiqeen by the fact that he has liberated his disciples from physical presence for swearing oath. Moreover, this justifies the fact that the spiritual abilities of Sultan Mohammad Najib-ur-Rehman are beyond time and space.
Beneficence to Non-Muslims
Due to availability of online al-bayah, English translation of various books and their easy access online, has also spread the teachings of Faqr to the Non-Muslims present overseas. Many after being inspired from these teachings converted to Islam and took oath of allegiance on the hands of Sultan-ul-Ashiqeen. The efforts of Sultan-ul-Ashiqeen to spread Faqr are ongoing. May Allah succeed him in his unparallel and tireless efforts in revolutionizing the path of Faqr and spreading it among the Mohammadan Umma. Ameen.
This article was published in the March 2020 issue of Mahnama Sultan-ul-Faqr Lahore (monthly Urdu magazine of Tehreek Dawat-e-Faqr) titled as سلطان العاشقین اوردنیائے تصوف میں انقلاب . It was originally written by Faiza Saeed Sarwari Qadri and translated in English by Fatima Noor Sarwari Qadri. This article has been translated in English using the American English vocabulary. If you wish to read it in Urdu, then please visit the link:
Please like, comment and share for support