Master
Allah has sent prophets and messengers in every age to guide mankind. After the end of Prophethood, Allah entrusted Prophet Mohammad (pbuh) with the responsibility of conveying the message of truth to people through the Saints. Allah says:
He is the One Who has sent His Messenger with guidance and the Din (Religion) of truth so that He may make it dominate and prevail over all other religions, even though the idolaters may hate it much.
Islam is a complete code of life as well as a religion of nature. It monitors all conditions and changes related to appearance of the inner and outer existence of man and the universe. Islam is a universal religion that has the capacity to accept the new challenges of life. The process of evolution is going on every moment in the universe. Every morning when the sun rises, it brings with it a new message of progress. Every night announces the unveiling of a new reality when it spreads over the atmosphere. This journey of development continues in every sphere of life it moves ahead with full force and lightning speed in the field of media. Transmission of human emotions, communication and sending of messages has been going on since.
As man progresses, media also innovates. The journey that started with signs, symbols and images on stones has entered the world of computers and mobile phones through radio and television. Social Media has changed our lives to great extent. In an instant, a person can not only connect with people around the world but also can express thoughts and ideas. The most important Social Media are Facebook, Twitter, Instagram and social blogs. Here people from all over the world come together to exchange public information every moment. This innovation has also opened a new chapter for the progress of Islam. That is why the Holy Prophet (pbuh) said about preaching the truth:
Abdullah ibn Amr ibn al-As relates that the Holy Prophet said:
Convey (my teachings) to the people even if it was a single sentence.
Internet and Social Media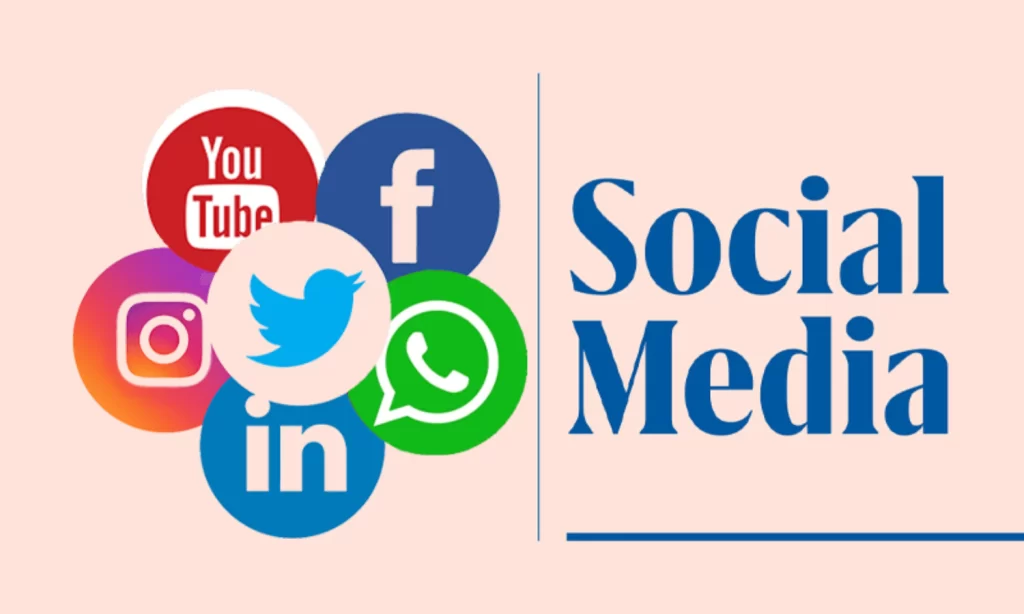 It is the age of internet and social media. People have found a path from these resources. Thanks to this we can do a lot for our religion and nation. It is a flowing sea in which we can throw diamonds and pearls as well as dust and trash. It conveys things from religious, moral and educational points of view and also things that destroy human and moral values. Its influence is so widespread and expanded in various spheres of life that we cannot ignore it. And its importance is increasing with each passing day.
The main reason for this is the connection of people from every group to social media. Today, 97% of the world's businesses depend on social media for success. And social media is getting a bit more attention along with external resources. Political, social and welfare workers and eminent personalities are also active in expanding their social circle. Everyone is in a race to get as many followers as possible. From the most minor brands to famous brands around the world are promoting their business on social media today. Social media determines even the ups and downs of the political world and trends of people.
Role of Social Media in the Spread of Islam
Keeping in view all these facts, we cannot deny the role of social media in the spread of Islam. In view of the increasing popularity of social media, it has become imperative to use this medium of communication in a 'proper manner' for propagating the true message of Islam. 'Proper manner' because there is a vast amount of information available on social media related to every aspect of life. But it is still upon the reader to decide right and wrong. Everything on social media is not trustworthy and actionable. Because evil-minded people and devil-natured people are lying in ambush everywhere to mislead innocent people. Their aim is not development, but sedition, division and inequality in society. Therefore, readers have a great responsibility not to trust or advertise anything without research. Especially the young generation who prefers social media instead of consulting teachers, scholars and saints to solve problems.
It has become paramount to have the real teachings of Islam available on every social media forum. So that not only our young generation but non-Muslims can also be introduced to its universality. On one hand people are connected to the world and the world is under their control thanks to social media. On the other hand the esoteric state of Islam 'piety' has been greatly hurt because of it. Piety is the esoteric state of relationship with Allah whereby the quality of abstinence depends on inward sincerity.
Worship is Overly Publicized
However, due to the scourge of social media, our worship has become mere hypocrisy and pretentiousness devoid of inner spirit. People now consider the publication of Hajj, Umrah, Zakat, donations, Sadaqah and every act of worship as their religious duty. Our focus is on WhatsApp, Facebook and Instagram stories instead of the spirit of worship. We keenly awake to see who has seen our status and story. The ones who saw, why did they not like and comment? The commenter has given us a cursory response or outright praise. It means that the purpose of our worship changed from the pleasure of Allah to attention and appreciation of people.
Therefore, it is critical to understand the true spirit of Islam to benefit from the usefulness of social media. Lest the knowledge that we consider to be good and rewarding becomes our demise and the cause of Allah's displeasure. In this age of materialism, every person understands Islam according to his intellect and knowledge and introduces it further. However, majority do not know the true spirit of Islam and go astray. In this misguidance, innocent people are afield from the reality of Islam due to which they cannot reach their destination i.e. Divine gnosis.
There is a perfect guide in this age of temptation who is purifying the souls and cleansing the inwards of people with his Divine vision. That enlightened spiritual guide is the present perfect Shaikh of Sarwari Qadri order, i.e. Sultan-ul-Ashiqeen. He worked day and night to invite the Muslim Umma to the true spirit of Islam and the essence of prayer. He founded an institution 'Tehreek Dawat-e-Faqr' which spreads the message of Mohammadan Faqr throughout the world according to today's requirements. His efforts are not limited to the traditional dawat and preaching, he revolutionized the progress of Islam by using all modern media. This is why he has been given the title of "Reviver of Religion".
He brought the treasure of Mohammadan Faqr from the limited world of books to e-books, e-magazines and popular websites. For example in form of articles on Wikipedia, etc. which for centuries either transmitted from inward to inward or written in the form of manuscripts. He also did not ignore social media, i.e. the source of social communication.
Today, the message of Tehreek Dawat-e-Faqr is reaching people through innumerable pages and blogs on every social media forum, for example
Facebook
Instagram
Twitter
LinkedIn
Pinterest
Reddit
All in view of Sultan-ul-Ashiqeen's immense efforts and foresight. Just on Facebook, 63 official pages of Tehreek Dawat-e-Faqr spread the message of Faqr and Sufism all over the world in English and Urdu daily.
Similarly, there are official pages of Tehreek Dawat-e-Faqr on Twitter, Pinterest, LinkedIn and Instagram through which countless people enlighten their inwards with the true teachings of Islam.
Not Just One Social Media
Sultan-ul-Ashiqeen did not limit the beneficence of Faqr to one social media. Rather, he established the departments of multimedia design and development to spread the teachings of Faqr to seekers of Allah around the world. There are websites in English and Urdu under this department and translation facility has been provided in every language of the world through the translator on the English websites. Seekers of Allah from all over the world are getting attracted to Sultan-ul-Ashiqeen by reading the teachings of Sarwari Qadri Saints on these websites and books and magazines available online.
Fortunate seekers of Allah gain beneficence from the blessings of Mohammadan Faqr and Ism-e-Allah Zaat by pledging allegiance online to Sultan-ul-Ashiqeen. Furthermore, there are also video websites of Tehreek Dawat-e-Faqr. On these websites, all the events related to the Tehreek, hymns and naats, mystic poetry of Sultan Bahoo and other Sarwari Qadri Saints, Poetry of Allama Iqbal, eulogies and annual events of death anniversaries of Sarwari Qadri Saints and all the videos of the preaching tours of Sultan-ul-Ashiqeen are available. Likewise, all Sufi poetry is available on Sultan-ul-Faqr TV in audio and video forms. Besides this, magazines, important articles, photos and books are also easily available. The next step in social media was the introduction of mobile applications based on short videos like TikTok, Snack Videos, Snapchat and Likee.
Applications Responsible for Corruption
While people hold these mobile applications responsible for the corruption and depravity of the young generation. While Sultan ul-Ashiqeen, with his immense insight and inward disposition, formed teams of disciples who convey to people Divine gnosis and Mohammadan Faqr daily in the form of beautiful short videos. If Satanism is teaching immorality and unbelief through these applications, then the department of social media and short videos is inviting people to pledge allegiance to the perfect spiritual guide and gain the blessing of the Greatest Name of Allah (Ism-e-Azam). So that our obligations can be fulfilled. It is up to people whether they choose the path of good or evil. So Sultan-ul-Ashiqeen spread the message of Islam to the whole world by using each and every social media forum correctly and appropriately. He has opened the inward knowledge because of which people are aware of the true spirit of Islam.
In short, social networking sites play a big part in the spread of Islam and the chances of good results depend on their proper use. If every member of society gets concerned that Islamic teachings be conveyed to people through these resources every day, this task will become easier. We pray to Allah to grant us the opportunity to spread the message of Mohammadan Faqr throughout the world under the guidance of Imam of this era and reviver of religion, Sultan-ul-Ashiqeen and to do good deeds. (Ameen)
It has become paramount to have the real teachings of Islam available on every social forum. So that not only our young generation but non-Muslims can also be introduced to its universality.
In this age of materialism, every person understands Islam according to his intellect and knowledge and introduces it further. However, majority do not know the true spirit of Islam and go astray. In this misguidance, simple people are afield from the reality of Islam due to which they cannot reach their destination i.e. Divine gnosis.
Technology has innovated the propagation of Islam. It is very much easier to promote it and bring non-muslims into Islam. Young Muslims can also get to know more about their religion through technology.
This blog is English translation of an Urdu article of the magazine "Mahnama Sultan-ul-Faqr Lahore" for the month of December, 2022. The title of the Urdu article is:
Islam aur Social Media (اسلام اور سوشل میڈیا).
Originally penned by Imama Rasheed Sarwari Qadri from Lahore is presently in English by Mohammad Bin Moghees Sarwari Qadri, exclusively for websites.